"Big or small, strong or weak, BJJ is a game you can win."
Why get involved with Brazilian Jiu Jitsu?
Build immense physical self-confidence
Be able to protect yourself and your family
Develop and harness your aggression with minimal risk of injury
Know what's going on when watching a UFC fight
Reach 'flow state' like the numerous entrepreneurs, musicians and actors who train in the gentle art
Enjoy high-skill athletics at any age in a safe, novice-friendly atmosphere
Learn each stage to victory in BJJ: Takedown + Control + Submission
Am I cut out for BJJ?
I'm over 40 years old. There are many practitioners who began training in their 40s, 50s, and 60s.
I'm small and skinny. BJJ relies on leverage, not strength. So you can win from top or bottom against a more powerful opponent.
I'm overweight and get out of breath. BJJ training allows you to slowly increase intensity. Meanwhile you'll steadily shed fat and improve stamina.
I'm a nerd with no athleticism. Jiu-Jitsu was invented for exactly you. You get cheat codes every class, practice applying them without resistance, and then, like magic, they work!
I sit at a desk all day. The core exercises of Jiu Jitsu steadily improve hip mobility and back health.
I'm a lover, not a fighter. Martial artists are the least likely people to ever get in a street fight. Learn how to fight so you don't have to.
"It's addicting like a video game…while getting your body shredded."
See what my students are saying.

"I started right before I turned 40 and it is one of the best decisions I've ever made."
Bill Monro, Student

"Patrick has provided me with better awareness of the present and that is translated to multiple areas of my life."
Kosal Taing, Student
"Thoughtful, considerate and methodical with everything he does."
Hann-Yu Carlo, Student
Ready to accelerate your mastery of No-Gi Brazilian Jiu Jitsu?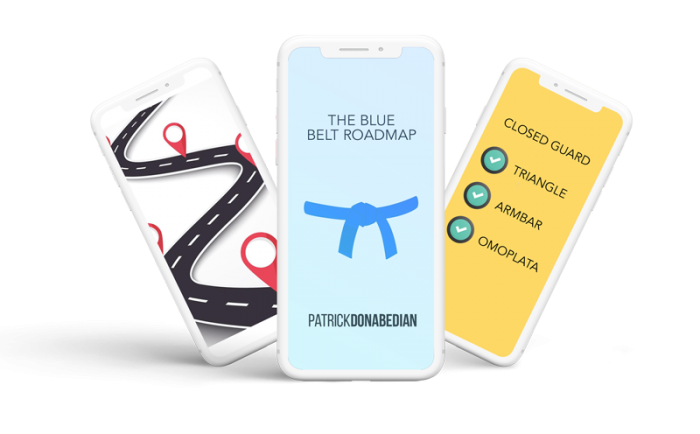 Download My Free Blue Belt Road Map
Some of what you'll get: BJJ's 6 Essential Beginner Positions, high-percentage techniques to get you unstuck from bottom, and a tool to plan for any self-defense scenario
Join My Private Coaching Program
The ultimate investment in your personal development. For those who want more than to just play the game, but to win the game of BJJ.