No-Gi Brazilian Jiu Jitsu Private Coaching (Los Angeles)
Custom BJJ Programming & 1-on-1 Instruction by Black Belt Patrick Donabedian
Ready to become more dangerous than 99.9% of the population?
"Since training with Patrick my Jiu Jitsu is improving faster than it ever has before. He brings high level competition experience, self defense knowledge and a friendly approach."
Luke Chapman, Student
"In Jiu-jitsu it is easy to be overwhelmed with information, leading to frustration and stagnation. Patrick has helped me navigate these challenges and his coaching has been instrumental to my progress."
Falcon Garrett, Student
"Patrick's knowledge of techniques is vast, but what makes him so effective is his focus on body position, framing, and his ability to convey mechanical sequences clearly."
Jeff Hackert, Student
What You Get When You Join My Private BJJ Coaching Program
Beginners (0-12 months)
Learn the 5 micro-skills that will put you ahead of your training partners from the very beginning
Get custom technique programming for your exact stage of development and body type
Gain street confidence in your BJJ using punch defense simulation exercises (100% safe)
Know exactly what it takes it to achieve blue belt in 10-18 months.
No longer panic and get smashed from bottom position
Be able to teach your kids BJJ
Intermediate/Advanced
Become the class technician that everyone is scared of
Learn the 6 submission attack systems and master them
Assess where your game is currently–strengths and weaknesses. Then transform into a guy who would toy with your old self (and everyone else)
Be able to improvise during rolls and actually "be like water"
Master two takedowns you can always rely on
Learn the 3 hidden no-gi grips and how to use them everywhere
Get into competition shape (even if you don't plan to compete)
Quickly Improve your Guard Decision Making
A System-Based Approach to BJJ Learning
My private coaching focuses on transforming clients into technical grapplers using Jiu-Jitsu's 3 Critical Learning Factors:

Proven BJJ Systems
Athleticism
Intelligence

Whether you're seeking a simple introduction to Jiu-Jitsu or want to go deep into the 4-D chess game of leg locks, closed guard, back attacks, wrestling, and much more, you'll be guided through a comprehensive step-by-step learning system.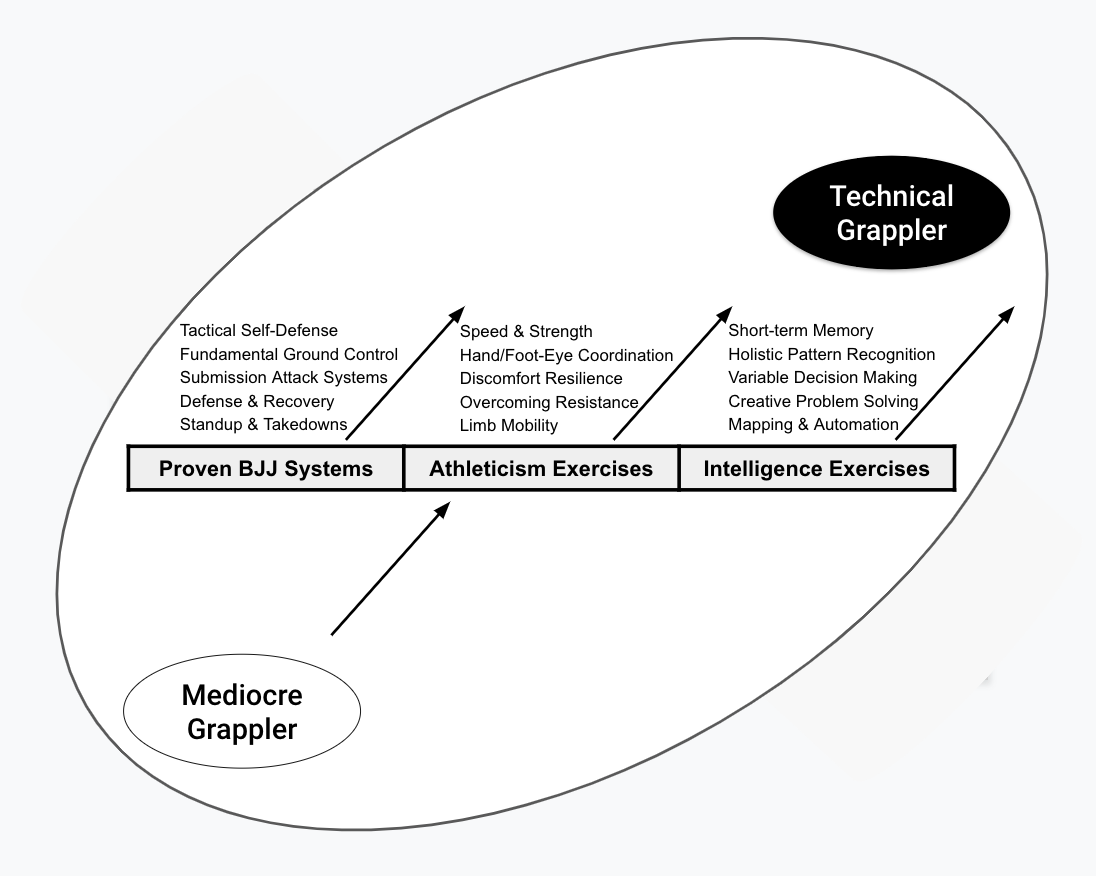 "Big or small, strong or weak, BJJ is a game you can win."
Ready to take the next step?
If you are interested please fill out the application below. Spots are limited.

Once you complete the application you'll book a short phone call with me to discuss your BJJ goals and how I may help you attain to them. Pricing varies depending on the selected program.